26 before 26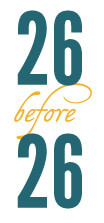 Recently I've been trying to follow through more reliably on things I commit to. It's easy to be excited about a project and give up before or shortly after I've started. I saw a list like this on a blog somewhere and I liked the idea: a finite list of things to complete in a finite amount of time. These are a handful of things (in no particular order) I've been wanting to do, but have trouble finding the motivation, time, or opportunity. Having a list will make it easier and more fun to cross each item off as I complete them. It is 232 days until I turn 26, so I'd better get started.
Replace guest bathtub.
Paint the kitchen cabinets.

Read and return all borrowed books.

-- Done!
Have a smores party.
Paint a picture for myself.

Get a record player.

-- Done!
Build a piece of furniture.
See Fountains of Wayne in concert. -- Done!
Learn how to change a tire.
Host a poker night.

Reconnect with an old friend.

-- Done!

Replace master bathroom shower.

-- Done!
Try snowboarding again.
Watch The Godfather. -- Done!
Take a city tour of Phoenix.

Organize the garage.

-- Done!
Take a pottery class.
Reduce my private debt by one fourth.

Digitally organize and archive all photos.

-- Done!

Lose 15 pounds.

-- Done!
Stay up all night and watch the sun rise.
Refresh and customize an old piece of furniture.
Buy a nice set of dishes and flatware.

Learn to properly cook a steak.

-- Done!

Create wedding books for my parents and in-laws.

-- Done!